For most couples the biggest thing they worry about on their big day
is everything going to plan.
The best way to conquer these fears is to hire in professionals to

cover every aspect of the day, including the catering.

Most food caterers tailor their services to make them adaptable to
a range of events, including weddings. For this reason you can be
sure that hiring a professional and experienced catering company
is the best way to make sure your big day runs smoothly.

Catering is usually required for two sections of a traditional
wedding, the sit-down meal after the ceremony, and some form of
food for the evening reception. Some choose to use the catering
facilities offered by their venue where as others hire in services
from elsewhere, you can also have a mixture if necessary.


Food Prices


The price of food has risen over the past five years and having to
pay to feed a large group of people is not something you want to
do every day!

The cost of wedding catering depends on a few factors.
1. Amount of guests
2. Menu
3. Time (how long guests will be at your wedding)

To get started you need to figure out what kind of you would like, to get started take a look at our wedding catering options page.

Once you have decided on the food you would like to be served it's now time to either speak with your venue food manger or hire a catering company.


Some other wedding catering information to help you plan your big day
Main meal catering options
Canapés
- ideal to serve after the ceremony and on arrival to the venue. Most canapés consist of bite-size snacks, enough to compliment a glass of champagne.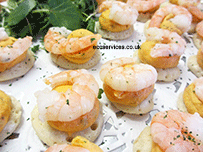 Hog roast with mixed vegetables
- a great option for a main meal, especially served with fresh vegetables. Alternatively to a hog roast you could choose a spit roast or a lamb spit roast.


Mixed desserts
- a perfect way to finish off a meal. Desserts can be custom made to suit the needs of the couple, anything from scones to cream cakes.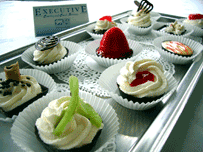 Tea/ coffee
- very popular with the traditionalists and I am sure the older guests would be thankful for a cup cuppa. Served with the option of milk and sugar you can't fail to please.


Cheese board
- a traditional option to finish off any meal. A platter of cheeses and a selection of biscuits are a very popular choice.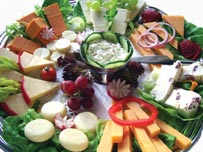 Choosing your catering for the evening is very dependent on what was chosen for the main meal, for example you don't want two hog roasts. Most traditionalists choose a buffet option, however if you have had food provided by the venue during the day then why not try a hog roast or a barbecue on the night?


Evening catering options
Cold finger buffet
- the choice of many who opt to go down the traditional route. A general cold finger buffet consists of food such as sausage rolls, sandwiches, mini buns, pizzas and chicken nuggets. Other options can be added and if you want to add extra variety why not choose a few platters too?


Fork buffet
- a fork buffet usually consists of salads, savoury rice and pasta salads. Not so much a meal option by itself but a great side option to one of the hot choices or even a cold finger buffet.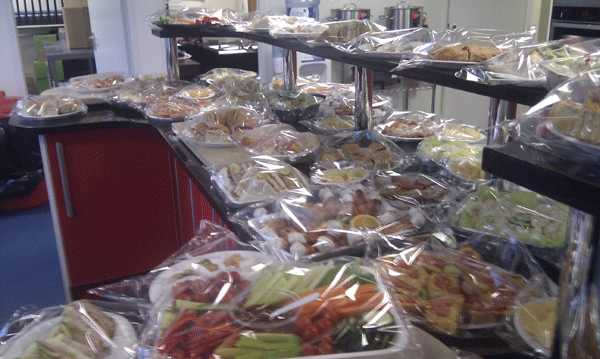 Hot buffet
- depending on what you have chosen earlier in the day a hot buffet may be a little too much food for your guests to stomach. Options in this category include curry and rice, lasagne and garlic bread and cottage pie and mixed vegetables.


Hog roast
- the most popular evening catering selection but like previously mentioned, very dependent on what has gone before. As opposed to the mixed vegetable option in the main meal catering section, an evening hog roast is best served as a sandwich, served with apple sauce and stuffing.


Barbecue
- an up and coming catering option for evening receptions. A barbecue is a great option for a summer wedding, everyone loves a barbecue!
The menu for a barbecue is very much down to the individual and can be adapted to suit the needs of the happy couple.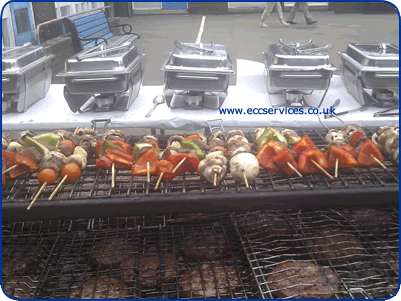 Buffets For Parties
Finger Buffets Guide For Party or Office Catering
Party catering