---






Food stations are a new concept we have developed over the past three years, we noticed a trend set by the hotels in America offering a unique wedding catering option different to anything we have ever seen in the UK.
The food stations we have designed can be set up inside or outside depending on your own requirements, each station has it's own equipment and food option but all of the food stations come complete as a full package.
Below are the options we now offer: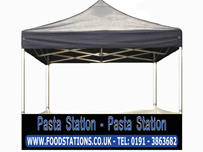 More Information About Food Stations

Each food station is unique offering a food selection all of your guests will enjoy.
Each food station has it's own menu to view the menus click on the food station above this will take you to our food station website.
Each food station comes complete with staff, equipment and food, you can mix and match the stations as shown in the examples below.


Combination Food Stations

Mixing and matching the food stations gives your guests more choice.

Example 1 based on 100 guests - day and night catering

BBQ food station x 100 people (during the day)
Mexican food station x 100 people (evening guests)


Example 2 based on 100 guests - Double stations

Hog roast food station x 50 guests
Pasta food station x 50 guests


Food Stations For Weddings

We originally created the food stations for weddings, the stations offer a welcome change to a sit down meal or a finger buffet.
The stations can be set up inside or outside please give us a ring to discuss your requirements.


Food Stations For Corporate Events

Using the food stations for corporate event catering has become extreemly popular over the past year, businesses have been hiring our stations to provide food for promotions, family fun days and to feed VIP guests.


Food Stations For Private Parties

Another popular option is to have the food station at your party, we didn't consider this to be a option in the beggining but we have been suprised at the number of requests.


Food Stations For Direct Sales

It can be difficult to organise a large event but the food stations are perfect for selling directly to large crowds of people and we belive the stations look a lot better than a burger van!

You can create your own combinations or simply just choose one.
If you need any help or more information regarding this food service please email or give us a ring to speak with a member of staff: 0191 3863682

Indoor Foodstation For A Wedding In Durham
Hog Roast Foodstation Durham
Oriental Food Station In Action
Foodstation Catering
Visit our food station website for more photos from events around the North of England
Food Station Catering North East England