---






The popularity of the pig roast over the past five years has far
excided our expectations and has even expanded into the
winter months with Christmas party's and Christmas markets
in December.


We now have seven roasting machines each machine is
capable of cooking a 85k pig producing around 200 portions
of meat.

The most popular option we provide is hot roast pork in a bun
with the choice of stuffing or apple sauce another option is a
different choice of meat either: beef, turkey, lamb or chicken.


About our hog and spit roast machines

One of the most common question people ask me is
"whats the difference between a hog roast and a spit roast" ?


The answer is:

A hog roast is where the pig is lying in a tray see photo 1
A spit roast is where the pig is attached to a spit (metal bar) and it rotates see photo 2

Our machines are made from stainless steel and are 4ft long 1.5ft wide they have large pneumatic tyres enabling them to handle any surface and can be used indoor or outdoor.
Each machine is CE approved and has two stainless steel burners that use propane gas that only gives off heat not smoke (unlike other machines)

When the cooking process is complete (8 hours cooking time for a 65k pig) the doors are removed and the hog is raised up so the chef can easily cut the meat and guests can view the pig as it is carved.

Each machine has it's own gas certificate and is serviced every year.
Our machines are used regularly and are replaced every two years.


Our Hog and Spit Roast Catering Service

We provide a wide range of options to the general public and businesses across the North of England.

If you have any special dieatry requirements or need vegetarian options providing this is not a problem just give us a call and one of our advisors will arrange it for you.

No matter what event we are catering for we always have the highest health and safety standards, we work closely with local authorities to ensure our standards are always up to date.

Our staff have a minimum level 1 hygiene certificate as well as in house training.

We provide a high standard of service at every event and customer satisfaction is our top priority but as you can see we are very competitive with our prices, we buy our pigs at wholesales prices and this enables us to provide you with the most competitive price around.


Included In The Package

We provide a full package so you can relax and enjoy the event while we take care of everything else included in the package is:
chef's, services staff, hog + machine, buns, apple sauce, stuffing, sauces, plates, napkins, knives, forks, service tables, table covers - basiclly the full package.

At the end of the event our staff will clean up the work area and take away all the rubbish leaving you and your guests to enjoy the rest of the day.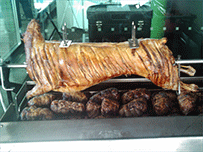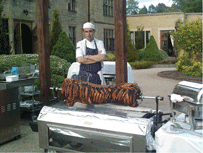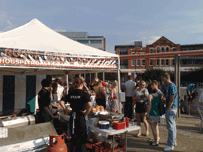 Hog and Spit Roast Caterers