---






It is said that 1 in 100 people suffer from a disease which affect the foods they are able to eat. As better screening is made available the increase in known diseases and allergies continue to plague the general population. It is now more important than ever to educate yourself on the wide range of restrictions which are placed on this ever increasing population.
One known disease that affects people's eating preference is celiac disease. Although most people assume it is an allergy it really is an autoimmune DISEASE. Autoimmune is basically when your body begins attacking itself. This is triggered when gluten has been consumed. The gluten causes the villi which line your small intestines to become inflamed. Your body then attacks its own tissue causing damage which if exposed to for a long period of time can cause great damage. The villi in your body are responsible for the absorption of nutrients from your food. The only known treatment for this disease is to have a lifelong diet free from gluten.

Gluten is a protein composite found in foods processed from wheat and related grain species, including barley and rye. It gives elasticity to dough, helping it to rise and to keep its shape, and often giving the final product a chewy texture. Gluten is found in many foods and below is a list of some of the more common products you may not be aware that contain gluten:
Is It Gluten Free - A Guide To Gluten Free Catering

Whisky
Rye
Barley
Bread
Liquorice
Malt vinegar
Pickles
Blue cheese
Couscous
Hot dogs
Gravy powders
Root beer
Cold-cut meats
Canned baked beans
Pudding
Boxed soups
Soy sauce
Farina
Dry mustard powder
Salad dressings
Tabbouleh
Communion wafers
With so many foods containing gluten it is important to read the label and find out exactly what it is you are eating . Luckily, commercially made products have begun labeling and producing a line of "gluten free" foods making it easier to shop for your specific needs.
Baking powder
Caramel flavoring
Coloring
Dry Roasted Nuts
Food Starch
Glucose syrup
Gravy cubes
Ground spices
Maltose
Non-dairy creamer
Smoke flavoring
Soy sauce
Stock cubes
Suet
Vegetable broth
Vitamins
Wheat starch
Breakfast cereals
Vinegar
Mayonnaise
Beer
Curry powder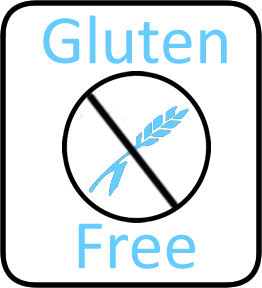 Many of the supermarkets now offer a range of gluten free products that can be used to make food dishes we are all familiar with including: pizza bases, bread buns, sliced bread, pitta bread, tortilla wraps, pasta and cakes.
You can find these products on the specialty shelves usually near the cereal section or bakery depending on the supermarket you shop at.

Obviously with all of these products you still need to be careful not to add anything with gluten to the finished meal, below we have two quick and simple recipes you can use to make gluten free meals.
Ingrediants:

Gluten free pizza base - (available at the supermarket)
Tomato puree
Red pepper
Yellow pepper
Red onion
White onion
Mushrooms


Method:

1. Cover the pizza base with the tomato puree
2. Chop the red and yellow peppers into large rings and place on top of the pizza base
3. Dice the red and white onions, then mix together in a bowl and season with black pepper, cover the pizza base with the onion mix
4. Slice the mushrooms and add to the pizza base
5. Place the pizza into the oven gas mark 7 - 190C for 15 minutes

Ingrediants:

Gluten free pitta bread - (available at the supermarkets)
Chicken brest
Tinned tomatoes
White onion
Mushrooms
Garlic glove
Fresh basil
Rocket lettuce


Method:

1. Slice the chicken brest into strips and fry for 8 minutes
2. Chop the onion and add to the pan
3. Slice the mushrooms and add to the pan
4. Crush the garlic and add to the pan with black pepper
5. Open the tin of tomatoes and add to the pan
6. Chop the basil and add to the pan
7. Let the pan simmer for 10 minutes
8. Put the mixture into a bowl and place in the fridge for 30 minutes
9. Slice the pitta bread and add the lettuce to the bottom of the pitta bread
10. Add the chilled mixture from the fidge to the pitta bread and serve.

Catering for a large number of people is not easy at the best of times but we all need to take into consideration special dietary requirements some people attending may require.
When
planning your wedding
you have an advantage with the invitations we always advise asking your guests on the wedding invertations if they have any dietary requirements this will make it easy for you or your caterer when planning the food and when the invitations are returned guests should have informed you of their needs.
Planning a small party or event is a little bit more complicated unless you know who is attending and their dietary requirements, if not then what we suggest is 5% of people will be vegetarian and 1% will have other dietary requirements, it's impossible for you to know what these could be so having a gluten free and dairy free option available is the only solution this doesn't have to be complicated or break the bank all you need is to separate plated meals ready to use.
If you are using a caterer for your
event catering
you shouldn't have to worry about having special dietary meals available as most event caterers will take this into consideration when planning your event, however it is advised to double check with your event caterer to ensure at minimum a vegetarian option will be available.