---






Our hot buffet menu is a popular choice for wedding's, corporate meetings and private party's.
Each dish is delivered hot and ready to serve, we provide the meals in personal containers but we also offer the option to have this menu served by staff from chafing dishes.
How does this menu work?
Choose a main meal and one side dish to create your own hot buffet, if you are catering for large numbers we would advise choosing more than one dish.
More information about the hot buffet menu can be found at the bottom of this page.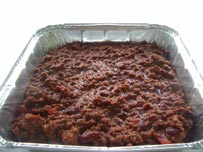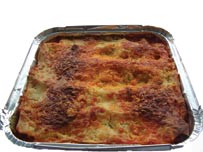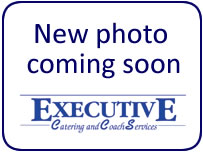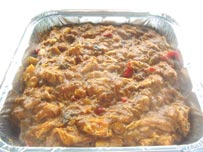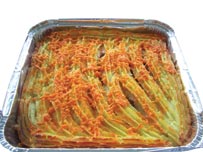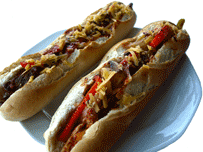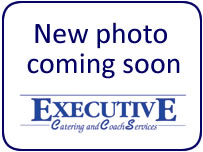 Choose One Side Dish
B
oiled potatoes
Boiled rice
Corn on the cob
Crunchy coleslaw
Garlic bread
Jacket potato
Mix red and green s
alad
Mixed Vege
tables
P
otato wedges
Roast potatoes
Pork
s
avoury r
ice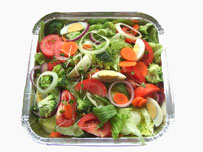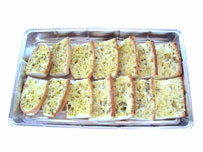 BBQ Chicken
Our BBQ chicken is made with one full roast chicken breast per person, the chicken is smothered in our very own home made BBQ sauce.
Our BBQ sauce is made from scratch with our very own spices but remains a secret recipe.
Suggested side:
Corn on the cob.
Chinese Chicken Curry
Our chicken curry is made with sliced chicken breast, green and red peppers, white onions, potatoes and mushrooms. Also added to the dish is white and black pepper, hot soy sauce and chilli.
To make the dish our own we add a range of secret spices to enhance the flavor. The spices can be changed to create a hot or medium dish.
Chicken curry is the most popular option but we can also offer beef, pork, lamb or turkey curry dishes as well.
Suggested side:
Boiled rice
Cottage Pie
A traditional English meal for your guests to enjoy our cottage pie is made with minced beef and onion, carrots and gravy.
We top the mince with sliced potatoes then a layer of creamy mashed potato and grated cheddar cheese to give it a golden finish.
Suggested Side:
Mixed vegetables
Lasagne
Our Italian pasta dish is made with fresh minced beef, white onions, plumb tomatoes and sheets of pasta.
We use a Naples style method to finish our dish consisting of ricotta and mozzarella cheese and a rich tomato and garlic bolognese sauce.
Suggested side:
Garlic bread.
Mexican Chilli
To create our chilli con carne dish we use ground-minced beef stewed in a thick chilli sauce, we add white onions, red and green peppers, garlic and chilli peppers.
To make our recipe unique we also add a range of hot spices but if you would prefer a mild chilli our spices won't be added.
Suggested side:
Boiled rice
Steak or Chicken Baguette
Our steak baguettes are made with sirloin steak strips, mixed peppers, mushrooms, white onions and cheese.
The chicken baguettes are made with sliced chicken breast, mixed peppers, white onions and cheese.

Both baguette fillings are fried in a BBQ sauce and are served hot
.
Suggested side:
Coleslaw.
Sweet and Sour Chicken
Our sweet and sour chicken is made Hong Kong style so the chicken is diced then fried, we add chopped red and green bell peppers, diced white onions, black and white pepper, our own home made sweet and sour sauce.


Suggested side:
Boiled rice
If you are catering for 20+ guests you can choose more than one main course, this will provide your guests with more choice at the buffet table.
Example based on 100 guests
25 x Lasagne with garlic bread
25 x Chicken curry with boiled rice
25 x Mexican chilli with jacket potatoes
25 x Chicken baguettes with coleslaw
The price would still be the same as ordering 100 x Chicken curry and rice
Another way to customise your hot buffet is adding a selection of
food platters

Each
platter
makes a fantastic centre piece
Example based on 100 guests
50 x Sweet and sour chicken with boiled rice
50 x Cottage pie with mixed vegetables
+ 1 x
Sandwich platter
+ 1 x
Mixed meat platter
+ 2 x
Mini bun platters
Our Hot buffet comes with disposable plates, disposable cutlery, disposable napkins and disposable table covers as part of the price.
If you are planning a more formal occasion we would suggest ordering china plates and linen napkins please give us a call to add this to your order. 0191 3863682
Hot buffet service options
We offer two choices for service of the hot buffet
Option 1
Each dish arrives hot and ready to serve in individual containers that are portioned
We would need to deliver the food 20 minutes before you are due to eat
Every option is portioned so the exact amount of food is provided for each person
Option 2
Each dish is served from a chafing dish by a member of our staff, we would also collect the plates from the tables when guests are finished eating.
This option is perfect for formal events.
This option is available at an extra charge please give us a ring to discuss your requirements
To order go to our
Email an order page
fill in the details and we will confirm your booking the same day.
If you are planning a party/event/business meeting and require any assistance please call us: 0191 3863682

Hot and cold buffet using chafing dishes
Hot and cold buffet
- Photos from a party in Durham
Wedding at Durham Town hall
-
using the hot buffet menu, food platters and cold buffet items


How to cater for vegetarian guests
Hot Buffet Ideas UK
Hot Buffet Menus and Prices
More Information About The Hot Buffet Menu
* Minimum order 10
* Delivery charge may apply
* All prices are + VAT - 20%
---
Menu 22 - £6.50 per head