---






Organising an event for a large number of people is time consuming and if not done correctly can be a very tedious process. For many the main issue is finding a venue suitable to hold the event. Philip Lee Hewitson's article titled 'North East event venues' outlines and identifies some of the best locations to hold a large scale event in the North East of England. Before choosing a venue however there are many questions that need to be answered especially for an occasion that is going to attract a lot of people, for example a wedding. One of these questions is, what type of venue are you looking for?

Although going against British tradition, more and more people now choose to be married in places other than a church or a chapel, some even choose to tie the knot abroad. Getting married in a church has its advantages and is appealing to those traditionalists, is it however feasible when looking to welcome a large number of guests to such a prestigious occasion? The answer to this question is of course down to individual opinion but certain types of venues do have their advantages when looking to plan large scale events.

Themed weddings are becoming very popular, with modern day couples tailoring their big day in a particular fashion so it effectively portrays themselves and their lifestyles. Examples of this include 'festival weddings' where the guests at the wedding sleep in tents and the whole day is staged in a field, something which is becoming increasingly popular with festival loving couples.

Wedding venues that allow the bride and groom to spend their whole day at the one location are also becoming very popular, these venues cut out needless travelling time and allow for an all round more relaxing day. These such venues have been made popular by the BBC Three program 'Don't Tell The Bride'. Although not everyone's cup of tea (no catering pun intended), outdoor weddings such as the fore mentioned festival wedding are a good way of avoiding red tape and wedding day etiquette.

Many indoor venues have fire safety restrictions and only allow a certain number of guests to attend the ceremony with similar regulations taking effect for the evening event. Outdoor venues such as marquees however can be put in place to hold a specific amount of people and the bride and groom have increased control over the size of their venue and therefore the amount of people they can invite. Having control over who you want to invite to your big day then allows you to invite everyone you want there without discarding and potentially causing a family feud.

Although good for increased control and freedom, outdoor venues can often be hampered by bad weather. Indoor wedding venues are often expensive and very controlling, but they do not however rely heavily on good weather, they act as a perfect location for you big day regardless of the outdoor conditions.

On the other hand, bad weather can ruin a special occasion when staged outside and in the open, often this can have a knock on affect on clothing choice and other important aspects of a wedding day. Overall, the question that potential newly weds need to ask when choosing a venue for their wedding is 'does the advantage of having increased control over your big day by holding it outdoors, outweigh the possibility of it being ruined by bad weather'?
Finding A Venue For Your Party or Wedding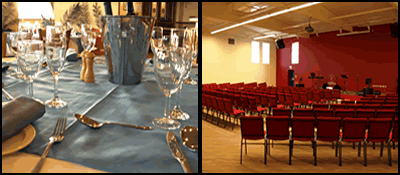 Looking for the perfect venue for your event or occasion?
We explore the options to find out the pros and cons of venue hunting.