Hog roasts are a very popular choice for wedding
catering and as a company executive catering are
providing this service to an increasing amount of
happy couples across the whole region.
On its own the hog roast is a perfect replacement for
an evening buffet and this is the option many brides
and grooms select.
Others however choose to combine the hog roast with
a traditional buffet as this example shows.
Northumberland has a wide range of wedding venues
making it a popular choice for brides.
We can suggest a range of wedding venues in
Northumberland that can match your budget and
requirements give us a ring we are more than happy
to help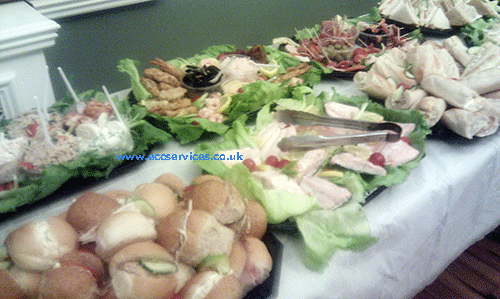 Usually for weddings at venues accross Northumberland the bride and groom select the hog roast catering option and combine this with a few smaller buffet options. For one particular wedding however the couple decided to provide a whole range of catering options for their guests.
The guests at this particular wedding, held at a hotel in Northumberland were treated to a whole range of foods.
The primary selection was of course the hog roast, this however was combined with a very large selection of food platters.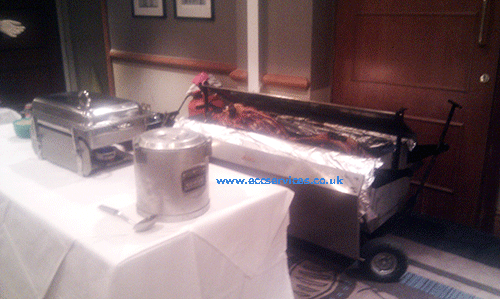 The food platters included:
Mini bun food platter - a sandwich platter consisting of small white and brown bread buns filled with both meat and vegetarian fillings to suit the needs of all guests. This platter was garnished with salad.


French stick food platter- a selection of half French stick sandwiches filled with the vegetarian or meat fillings chosen by the bride and groom.


Longboat food platter- a range of white and brown longboat buns presented on a bed of iceberg lettuce and garnished with salad. The fillings were both meat and vegetarian.


Wrap food platter- a selection of half filled wraps bursting with salad and the vegetarian or meat fillings carefully selected by the happy couple.


Open Danish food platter- a range of open top sandwiches. The toppings were customised with a choice of meat and vegetarian fillings available.


Sandwich food platter- a selection of traditional bread sandwiches, garnished with salad. The range of fillings included both meat and vegetarian options.


Cheese board food platter- a traditionally British option, this cheese board platter came complete with at least six types of cheese and a selection of biscuits. It was garnished with salad and fruit.


Meat food platter- a variety of meat slices displayed on a bed of iceberg lettuce and garnished with salad. The meats included: honey roast ham, roast beef, Norfolk turkey and chicken breast.


Crudites food platter- a display of finely chopped salad and vegetables with expertly selected dips. The salad dips included: salsa, garlic and hot tomato.

Oriental food platter- a fine selection of oriental favourites such as spring rolls, samosas, dimsoms and bargie cakes. Presented with BBQ and salsa dips and garnished with salad.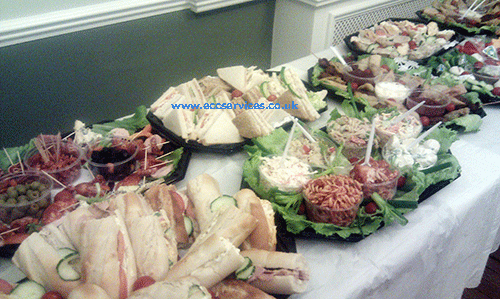 For some weddings this amount of food would be far too much, however this would obviously depend on the number of guests invited. For most weddings in Northumberland executive catering services are only required to provide a hog roast and possibly a few side dishes such as jacket potatoes or a tossed salad.
This particular event however portrayed the range of catering options the company can provide and showed how the combination of the hot hog roast can work well with the cold buffet options, in this case the selection of food platters.